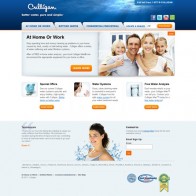 This is our second Culligan development project based upon the success of our prior work. Over five years ago Kennedy Communications attracted more then 100 Culligan dealers to use a template we designed specifically for Culligan. Five years later it was time to take a fresh look at the web site and work-flow process.
Amplitude Design, Inc. developed a new system to handle the day-to-day management, incorporating Kennedy Communications' specific requirements, and created a more efficient architecture to address the accounts growth.
Portions of the projects included:
A Content Management System to handle the various web sites.
Consolidate the various web sites into one environment.
Develop a Custom Dealer Finder with Google Maps Integration
Develop a Custom Interface to Handle Online Communications
Example Web Sites:
www.culligannorthernillinois.com
This is one of many stories where our close client relationships have help grow businesses.  If you could benefit from web site development please click here to contact us?