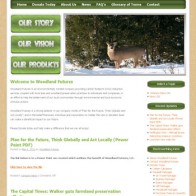 Woodland Futures, LLC worked with Amplitude Design, Inc. to launch their first web site. The company focuses on offsetting carbon pollution through planting trees.
The site provides informational content and a variety of packaged options to promote carbon neutrality. As an adjunct to the system, the  site provides businesses with a Carbon Calculator, which calculates the appropriate number of trees to offset operations.
Amplitude Design, Inc. used WordPress to build the site. The site also uses PayPal for credit card processing.
After working with other web development companies, Woodland Futures, LLC chose Amplitude Design, Inc. because of our experience.
If you are interested in working with an experienced web development company click here to contact us?